1
2
3
4
5
6
7
8
9
10
11
12
13
14
15
16
17
18
19
20
21
22
23
24
25
26
27
28
29
30
31
32
33
34
35
36
37
38
39
40
41
42
43
44
45
46
47
48
49
50
51
52
53
54
55
56
57
58
59
60
61
62
63
64
65
66
67
68
69
70
71
72
73
74
75
76
77
78
270 weeks ago
The Holy Face of the Savior cathedral is an architectural monument in Pavlograd, Dnepropetrovsk region. Its history started in 1892, when the first stone was laid into the foundation and the area was consecrated by Archpriest John Sergiev of Kronstadt. Read more Source: ua travel  
270 weeks ago
Ukraine expects outbreak of three strains of influenza, deputy head of the State Sanitary and Epidemiological Service Oleksandr Kravchuk told a press conference.He also added that the vaccine for these strains are being already registered in Ukraine
270 weeks ago
The wooden Church of the Assumption of the Blessed Virgin Mary was founded in Novosyolovka (Novomoskovsk district, Dnepropetrovsk region) in 1780. The construction was initiated by Zaporozhye Cossacks. The church from wood served its parish until 1930s. Read more Source: ua travel  
270 weeks ago
Olevsk is a small town at the border between Rivne and Zhitomir regions. It's a quiet provincial town, and its history dates back to the ancient times. Most historians agree Olevsk was founded by Prince Oleg Drevlyansky around 977. The town used to Read more Source: ua travel  
270 weeks ago
I am going to Ukraine in November, to meet a lady with whom I have been corresponding. She lives in Nikolayev, and recommended that I stay in an apartment
270 weeks ago
The Carpathian Mountains is the mountain range located in Central Europe. Ukrainian Carpathians are situated in the west of Ukraine mainly in Lviv, Ivano-Frankivsk, Zakarpattia and Chernivtsi regions. Mountainous terrain stretches for about 280 km. Hoverla Mountain (2061 meters) is the highest point of Ukraine. In rainy and foggy weather, this region is particularly dark [...]
271 weeks ago
An old picturesque village of Denishi is located 20 kilometers from Zhitomir on the banks of Teterev river. The village is known far beyond Zhitomir region, as this is where the famous mansion of sugar manufacturer and industrialist Mikhail Tereschenko Read more Source: ua travel  
271 weeks ago
Interesting picture showing the percentage change of students studying in schools in Ukrainian language from 1991 to 2013. Source: ukraine travel blog  
271 weeks ago
Les Kurbas is a soviet Ukrainian director, theatrical activist, actor and People's Artist of USSR. He was born in Stary Skalat village in Ternopol region and was educated in Lviv and Vienna Universities. He was known for founding many theatrical Read more Source: ua travel  
271 weeks ago
The palace castle in Belokrinitsa of Kremenets district (Ternopol region) is a remarkable monument of palace art in South Volyn. You can get here either by personal vehicle, taking a bus, or on foot from Kremenets. If you decide to go on foot, you will Read more Source: ua travel  
271 weeks ago
Listed by National Geographic as one of the 'must-see' places in 2013, the Crimean Peninsula in Ukraine has justifiably been described as a paradise. It has also been called the 'playground of the tsars', and indeed the coastline was a favorite leisure destination among Russian nobility. Catherine the Great's General Prince Grigory Potemkin noted in [...]
271 weeks ago
Bankers do not expect significant currency fluctuations until the end of this year, according to a survey conducted by the news agency "Interfax-Ukraine".Growing export of agricultural products will support UAH. An additional factor of stability is
271 weeks ago
Citizens of Putivl have always been proud of the fact that their native city is linked to The Lay of Igor, the famous work of Ancient Russian literature. A lot of people in the city have both a copy of that book and research works about it. Putivl is Read more Source: ua travel  
271 weeks ago
In 2001 a monument to firemen who took part in the elimination of consequences of the Chernobyl nuclear power plant disaster was opened in 2011 in Kruglouniversitetskaya street. The opening was timed to match the 25th anniversary of the disaster that Read more Source: ua travel  
272 weeks ago
If you ever happen to visit Kiev, include this marvelous place to your sightseeing schedule. You'll instantly feel there is something unusual about the area: everyone who comes there feels remarkably free and proud of the courage and determination Read more Source: ua travel  
272 weeks ago
These huge stylized birds representing all regions of Ukraine were demonstrated on the parade in embroidered shirts in Kyiv on August 24 (Independence Day of Ukraine). After the parade, these birds settled on the Sofia Square and aroused great interest among the people passing by. Photos by maxiwell83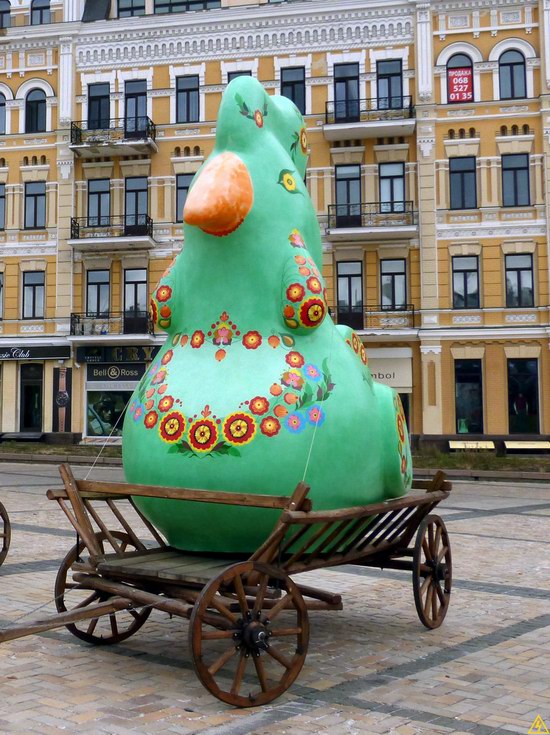 272 weeks ago
Zhitomir region has a secret spot that has not become too popular among tourists yet. It has everything you could ever imagine: picturesque river banks covered in pine forest with several perfect spots for pitching a tent, tall granite rocks that nag Read more Source: ua travel  
272 weeks ago
August 24, Ukrainians celebrated the 22nd anniversary of independence of Ukraine. The main celebrations were held in Kyiv. On this day, many Ukrainians came on the central square of Kyiv, Maidan Nezalezhnosti (Independence Square) dressed in "vyshivanka" (traditional Ukrainian embroidered shirts). Let's take a look at them. Photos by Karpov Igorok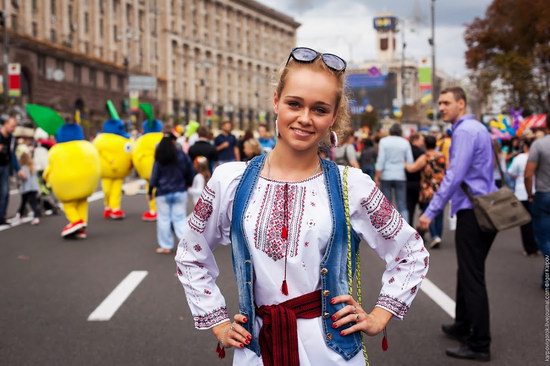 272 weeks ago
Construction of white stone five-domed Holy Protection Church in Orlovschina (Novomoskovsk district) was completed in the late 1990s. Earlier the place was occupied by a wooden church that was eventually destroyed by the Soviet regime. The first Read more Source: ua travel  
272 weeks ago
Ukraine considers Ukrainian community abroad to be influential force promoting the establishment of its positive international image, President of Ukraine Viktor Yanukovych said during a meeting with the president of the Ukrainian World Congress
273 weeks ago
In XIX century there was a famous entrepreneur with a considerable fortune called Count Orzhevsky. He constructed a few buildings in Zhitomir region, and these buildings remain valuable architectural monuments and local attractions. One of these Read more Source: ua travel  
273 weeks ago
Odessa is probably one of the most famous Ukrainian cities known also as the "Pearl of the South". However, you are unlikely to have seen this Odessa before. Flying over the city, especially at a relatively low altitude, is prohibited. It is clearly seen that the city is chaotically built up with skyscrapers – Soviet [...]
273 weeks ago
With the Smotrych River running through it, the city of Kamianets-Podilskyi is set in very picturesque surroundings. Although some historians are of the opinion that the city is built on the location of a settlement founded by the Dacians who inhabited the area in the 4th century BC, the first historical mention of the settlement [...]
273 weeks ago
Trident is a symbol, whose history has not been fully studied yet. It was first mentioned in Ancient Greek treatises. In Kievan Rus citizens decorated entrance gates to the cities with an image of three towers, which obviously has something to do with a Read more Source: ua travel  
273 weeks ago
Not far from Andrushevka there is Chervonoye village. This village used to be the home of manufacturer Fyodor Tereschenko in the XIX century. The merchant had a sugar production business. A sugar factory in Chervonoye, which was bought by Tereschenko in Read more Source: ua travel  
273 weeks ago
Trigorye monastery is a remote and tranquil place that had survived a lot of dramatic events throughout its history. The monastery is considered to be one of the oldest abodes in Volyn, even though the exact year of construction of the monastery is Read more Source: ua travel  
273 weeks ago
Despite warnings of the State Service for Tourism, Ukrainian tourists continue buying holiday packages to Egypt.According to some reports, about six thousand Ukrainians are now in Egypt. Tour operators inform of the situation in the country, but do
274 weeks ago
Korosten is an ancient town that was first mentioned in chronicles in 945. The history of Ukraine is closely connected to this town. In the center of Korosten in a two-storey building there is the Local history museum that was opened in 1924. It was the Read more Source: ua travel  
274 weeks ago
Kharkiv metro is a system of underground lines in Kharkiv, the fourth largest metro in the former USSR states (after metro in Moscow, St. Petersburg and Kiev), the second by the number of stations and the length of the lines in Ukraine. Metro was opened August 23, 1975. The total length of the lines is [...]
274 weeks ago
The history of Gagarin park in Zhitomir started in the XIX century. The picturesque park, which occupies the area of 36 hectares, was founded by a famous Volyn explorer and philanthropist Baron Maksimilianovich de Shoduar. Plants growing in the park Read more Source: ua travel  
274 weeks ago
One of the leading Ukrainian art museums, Dnepropetrovsk (originally Ekaterinoslav) art museum was founded in 1914. Ekaterinoslav art gallery was opened on the day T. Shevchenko's 100th anniversary was celebrated. At the time there were only 64 Read more Source: ua travel  
274 weeks ago
Taras Shevchenko Drama Theater in Ternopol was founded in 1915 by a famous theater director and actor Les Kurbas. During the USSR years the history of theater troupe entwined with the history of mobile Workers' and Peasants Shevchenko Drama Theater that Read more Source: ua travel  
274 weeks ago
In 2004 Ukrainian officials have made a decision to merge three Sumy universities into one educational establishment. Students of the three universities were not content with the decision, which is why they founded a tent city in the summer in Shevchenko Read more Source: ua travel  
274 weeks ago
The city of Zhitomir is full of fascinating sights. One of them is the former building of city magistrate in Zamkovaya mountain. The building was constructed in XVIII century and used to accommodate the city administration of Zhitomir. The magistrate Read more Source: ua travel  
274 weeks ago
Established in 2007 by the President of DAKH Contemporary Art Center in Kiev, Vlad Troitskyi, GogolFEST was initiated by a group of Ukrainians who wanted to bring all aspects of the country's contemporary art scene to their fellow Ukrainians and to the world. GogolFEST is the first, and indeed the only, multidisciplinary arts festival held [...]
274 weeks ago
Yesaul of Akhtyrka Regiment Matvey Shariy purchased a meadow and a piece of area of arable land in Sharovka (Kharkov region) in 1670. A few years later this place turned into a farm with over a hundred households, a church and workshops. The next owner Read more Source: ua travel  
274 weeks ago
"Ordzhonikidze GOK" (mining and processing plant) located in Dnepropetrovsk region is Ukraine's largest producer of manganese ore developed only open way. The plant produces about 70% of manganese ore in the country. After the collapse of the Soviet Union, a lot of quarries were closed and abandoned. That's why, nowadays, we can see the following [...]
274 weeks ago
We have added a lot of info about main places of interest and hotels of Chernivtsi – a city with unique architecture of various styles and with rich cultural heritage. For example, just look at this beautiful St. Nicholas Cathedral also called "The Drunk Church" (photo by Edward Tur) Source: ukraine travel blog  
274 weeks ago
Cathedral of St. Andrew is a church in Nova Kakhovka. The construction went on for thirteen years and was finally completed in late 2012. Money for construction was donated by Orthodox Christians and ordinary people who cared about the church. Every day Read more Source: ua travel  
274 weeks ago
Kryvche village in Borschevsky district (Ternopol region) used to be called Oplakana. It is located on the banks of a small river Tsyganka that crosses an old road from Melnitsa to Borschyov and Kamenets. The village got its present name because of the Read more Source: ua travel  
274 weeks ago
Count Stanislaw Badeni bought a mansion in Koropets village (Ternopol region) from Myslovsky family in the late XIX century. He started constructing a new palace. The construction was completed in 1906, and the Viennese Renaissance palace survived until Read more Source: ua travel  
275 weeks ago
By 2022, number of people employed in the tourism sector of Ukraine is to increase by two and a half times to reach 1 million people, president of the Association of Tourism Business Leaders of Ukraine Oleksandr Novikovsky said in interview with BTB
275 weeks ago




Arsenal face Turkish giants in the Champions League play-offsSoccerlens

German club Schalke 04 can also progress to the next stage if they manage to win against the

Ukrainian

club FC Metalist Kharkiv. Swiss club FC Basel will face Bulgerian outfit Ludogorets while Eredevise giants PSV will take on Massimiliano Allegri's AC 

...
275 weeks ago


Soccerlens



Three key issues David Moyes must solve immediatelySoccerlens

Moyes would definitely try to use them as much as he can in the coming season, but surely he can't rely too much on players that are yet to taste a single minute of Premier League

football

. The links with Gareth Bale or Cristiano Ronaldo may seem too

...