1
2
3
4
5
6
7
8
9
10
11
12
13
14
15
16
17
18
19
20
21
22
23
24
25
26
27
28
29
30
31
32
33
34
35
36
37
38
39
40
41
42
43
44
45
46
47
48
49
50
51
52
53
54
55
56
57
58
59
60
61
62
63
64
65
66
67
68
69
70
71
72
73
74
75
76
77
78
156 weeks ago
Samedayessays.org is a experienced writing company which has drawn the vast the circle of admirers. Juniors around the world trust their classroom dilemmas to the academic writing agency. What exactly attracts them most of all? You may find out about beneficial offers given at this academic company. Called an mature company, it offers a diverse […]
156 weeks ago
Svirzh Castle is a castle located in a small village of Svirzh in the Lviv region. It is a unique monument of defensive architecture of the 15th-17th centuries. The castle, originally built as a fortress, lost its original appearance after the reconstruction made in the 17th century. Despite its favorable defensive location ? on Mount […]
157 weeks ago
Kozelets is an urban village with a population of about 8,300 people located in the Chernihiv region, on the banks of the Oster River, 67 km south of Chernihiv. The highway from Kyiv to Chernihiv passes through the village. Here you can find several interesting monuments belonging to Ukrainian cultural heritage ? churches, built in […]
157 weeks ago
This is a great video to enjoy the beauty of ancient Kyiv, the capital city of Ukraine. Source: ukraine travel blog  
157 weeks ago
Presently, when the majority of the learners are becoming saddled with just how many writing tasks, they seek the assistance from article writing suppliers. One such respected web-site is Papersmonster.com. They concentrate developing article content from scratch with absolutely no plagiarized materials from it. The consumers have to account to their own web-site, discuss the […]
157 weeks ago
In the present day, when much of the trainees will get stuck with how many composing responsibilities, they seek the assistance from content creation corporations. One reputed internet site is Urgent-Essay.com. They concentrate creating reports on your own with absolutely nothing plagiarized possessions inside. The customers really need to login to their own website, talk […]
158 weeks ago
Same-day-essay is an competent writing company that has captured a large the circle of admirers. Young peope internationally leave their learning problems to this website. What enchants them most? You may spot strengths unveiled at this particular service. Being the- mature academic company, it lends a wide range of academic tasks. Normally, these contain essay […]
158 weeks ago
Dzembronya is a small village located on the steep slopes of Chornohora Ridge in Verkhovyna district of Ivano-Frankivsk region, near the border with Romania. It is the most high-altitude village in Ukraine and probably one of the most picturesque ones. Despite the fact that the population of Dzembronya is only about 250 people, the length […]
158 weeks ago
August 30, 2015, the so-called ?Color Run? was held in Kyiv, for the second time in Ukraine. This unique festival of running and paints was organized by ?KM Running club? together with the charitable foundation ?SportforPeace.? More than 700 participants came to run a distance of 3 or 6 km. The entire route was painted […]
158 weeks ago
Buyanessays is an expert writing company which has won over – diverse number of people. Collegers the world over trust their study-related troubles to the academic writing service. What is that that attracts them most of all? You are welcome to learn more about beneficial opportunities unveiled in this company. Since this is the- experienced […]
158 weeks ago
This wonderful landscape park was founded in the village of Buky in 1996. The village is located in Skvirsky district of the Kyiv region, approximately 110 km from Kyiv. It all started when a local entrepreneur Ivan Suslov bought 2.7 hectares of land which was used as a dump. It cost him only 20 thousand […]
159 weeks ago
The building of the railway station in Chernihiv is a monumental structure built in 1950, in place of the building destroyed during the Second World War. The station, designed in red colors, has visible elements of the Russian style of the early 20th century. At the same time, the entrance has some elements of Ukrainian […]
159 weeks ago
Master-Of-Papers.com are a paper writing service procuring students aid. Our specialists procure a superior full educational guidance for non-collegiates in all parts of the world. Our adepts have got a extensive experience in selling of diverse students helping. Our experts secure not only academic writing, we deal with essay papers on a required topic. Our […]
159 weeks ago
In a quiet backwater of the Desna River, near the village of Rozhny in the Kyiv region, you can find an unexpected thing ? a real river tram. According to local residents, the owner of the ?river tram? is a former chief of waterways. One day, he decided to build a floating dacha and bought […]
160 weeks ago
The Museum of Folk Architecture and Life in Uzhgorod is an open air museum, consisting of architectural monuments of old Transcarpathian villages, and examples of the oldest and most common forms of folk arts and crafts. The museum, opened to the public in June 1970, covers an area of ?four hectares. It is located near […]
160 weeks ago
Zhovkva is a small town with a population of about 13 thousand people located 25 km north of Lviv, about 35 km from the Ukrainian-Polish border. The town stands at the crossroads of international highways to Poland and the Baltic states. Since 1994, the central part of the town has the status of a historical […]
161 weeks ago
Kharkiv is the second most populous city in Ukraine, one of the eight most populated cities in Eastern Europe. The city was the third largest industrial, scientific and transport center of the Soviet Union after Moscow and Leningrad. In the second half of the 20th century, it became the main transport hub of South-Eastern Europe. […]
162 weeks ago
Not far from Kyiv, in the middle of the lake, on a small island in the thickets of trees, you can find a small wooden house. This artificial island was created in the 1970s, and was called ?Love Island.? The house was built later, around 1985, and was called ?The House of Hunting and Fishing.? […]
162 weeks ago
If you wake up early, while traveling on the Vorskla River around Okhtyrka in Sumy region, you can see this surprisingly colorful scenery. Photo by: Sergey Stepanenko. Source: ukraine travel blog  
163 weeks ago
Roman-Catholic ?hurch of St. Clara is a truly fabulous building which resembles a medieval castle. This miracle of architecture stands on the shore of a small pond in the village of Gorodovka (Andrushevsky district of Zhitomir region). Architecture of Romanesque and Gothic styles are closely intertwined in this building. This architecture is not typical to […]
163 weeks ago
Church of St. Michael the Archangel (1872) is a rare five-domed wooden church in the village of Lahodiv in Peremyshlyany district, Lviv region. The bell tower was built in 1854. The church stands near the street leading to the water source, which is located a hundred meters from it. Single and dual narrow arched windows […]
164 weeks ago
The National Museum of the History of Ukraine in the Second World War in Kyiv is a memorial complex located on the slopes of the right bank of the Dnieper River on the outskirts of Pechersk, one of the historic districts of the city. This is one of the largest museums in Ukraine (over 300 […]
164 weeks ago
Syretsky park was laid out as a park with a children?s railway. Small South Western Railway (Kyiv Children?s Railway) is a narrow-gauge railway, and an institution of non-formal education in Kyiv, where children are trained in the rail industry. The length of the railroad is 2.8 km. The trains (Tu-7 and an old German Gr-336) […]
165 weeks ago
If you visit Uzhgorod, the capital of Zakarpattia region, during the period from mid-April to early May, you will find the streets decorated with flowering sakura trees. In these days, Dovzhenko and Rakoczy streets, and also ??Pushkin Square, which are sometimes called Sakura Alley, turn into a fantastic Garden of Eden. Depending on weather conditions, […]
165 weeks ago
Lviv, an incredibly beautiful and atmospheric city, is pleasant to walk. It has the largest number of architectural monuments in Ukraine. The special charm is to walk along the old streets in the evening, when the lights are lit. It looks as if you are in a fairy tale, or in the past. The streets […]
166 weeks ago
The first line of Dnepropetrovsk subway with 6 stations (7.1 km) was opened December 29, 1995. It was the first subway in the former Soviet Union opened after its collapse. Since then, the number of stations hasn?t changed. Dnepropetrovsk subway is not a popular form of transport. The situation could be better if it reached […]
166 weeks ago
The Ministry of Economic Development and Trade of Ukraine made a great video presentation ?Ukraine. Open for U,? which demonstrates the potential of the country and its citizens. Today, Ukraine provides great opportunities for investments with its highly-skilled professionals, proximity to the core transport hubs of the region and being driven by a new generation […]
167 weeks ago
Nevytsky Castle is located near the village of Kamyanytsya in Zakarpattia region, 12 km north-east of Uzhhorod. The castle was built in the 13th century on a hill above the Uzh River valley in place of an earlier wooden fortress. In 1241, it was destroyed by the Mongol-Tatar?s hordes, but, in the second half of […]
167 weeks ago
Chernihiv is a city located in northern Ukraine, the administrative center of Chernihiv region. It is the northernmost regional center of Ukraine, the historical center of left-bank Ukraine, and one of the oldest cities in the country first mentioned in 907. Chernihiv is recognized as one of the most eco-friendly cities in Ukraine. Transfiguration Cathedral […]
168 weeks ago
Let?s fly over a beautiful landscape park located in the village of Buki in Kiev region, about 110 km south-west of Kiev. The park was founded by the local entrepreneur Ivan Suslov in 1996. Thousands of tourists come here to enjoy the beautiful countryside and views. Source: ukraine travel blog  
168 weeks ago
Synevir is the most famous and largest lake in the Ukrainian Carpathians, located in the upper reaches of the Tereblya River, in Mizhgirya district of Zakarpattia region. The area of its water surface is about 4-5 hectares. The lake is rich with trout, but fishing is prohibited. It is located at an altitude of 989 […]
169 weeks ago
Mukachevo is a town located in the center of Zakarpattia region. It is an important industrial and cultural center standing on the Latoritsa River, about 42 km from Uzhgorod. Due to its very convenient geographical location (40-50 km from the border with Hungary and Slovakia, and 90-100 km from Romania and Poland), Mukachevo is a […]
169 weeks ago
From the shared bike systems, tax breaks for bike commuters, to the national cycle paths spread across the EU, Europeans seems to really love travelling by bike. Not only are people choosing to go to work and run errands using their bicycles, they?re also using this particular mode of transport to put a new spin […]
170 weeks ago
Chornohora is the highest mountain range in the Ukrainian Carpathians located on the border of Zakarpattia and Ivano-Frankivsk regions. It is especially beautiful at a time when the slopes of the range are covered by flowering rhododendron. Chornohora on Google Maps. Photos by: Alexander Kotenko.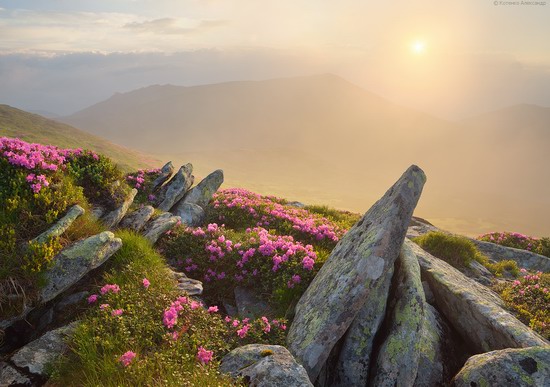 170 weeks ago
Radomyshl is a small town with a population of about 15 thousand people located to the north-east of Zhitomir, in Zhitomir region. Today, this place is known primarily due to the historical and cultural complex ?Radomysl Castle? opened in 2011. The main attraction of the castle is a unique museum of home icons, the only […]
171 weeks ago
Construction of this building, located on Podvalnaya Street, 6 in Lviv, began in 1899 and lasted until 1901, when the fire station began its work. It was designed by the outstanding Lviv architect of the late 19th ? early 20th century Juliusz Hohberger (1840-1905) in collaboration with Ignatius Brunico. The pearl of the external decoration […]
171 weeks ago
Buky is a small village with a population of about 500 people located in Kyiv region, to the west of Bila Tserkva, about 120 km from Kyiv. One of the most beautiful landscape parks in Ukraine can be found here. The jewel of the place is a beautiful temple complex ? Church of St. Eugene. […]
172 weeks ago
Vorokhta is an urban village located in Ivano-Frankivsk region, at an altitude of 850 meters above sea level, on the Prut River. This place is a training center of Ukrainian athletes in ski jumping, biathlon, cross-country skiing. Also, this village has one of the oldest monuments of Hutsul wooden architecture (the early or mid-17th century) […]
172 weeks ago
Kharkiv is the largest city in the north-east of Ukraine, the second most populous city in the country. It was the third largest industrial, scientific and transport center in the Soviet Union after Moscow and Leningrad. In the second half of the 20th century, it became the main transport hub of South-Eastern Europe. Video by: […]
173 weeks ago
Khotyn fortress stands on the bank of the Dniester River in Khotyn town (Chernivtsi region), about 20 km from Kamenets Podolskiy. Khotyn is one of the oldest Ukrainian towns emerged at the turn of the 10th-11th centuries. In the second half of the 13th century, by order of King Daniel Galitsky, a new stone fortress […]
173 weeks ago
May 23, Odessa held ?The Marsh in Vyshyvankas? (Ukrainian traditional embroidered shirts). About 500 people dressed in national costumes marched through the central streets of the city. This event is held in the city for the sixth time. Let?s look at some of the participants. Photos by: Alexander Gimanov, from dumskaya.net.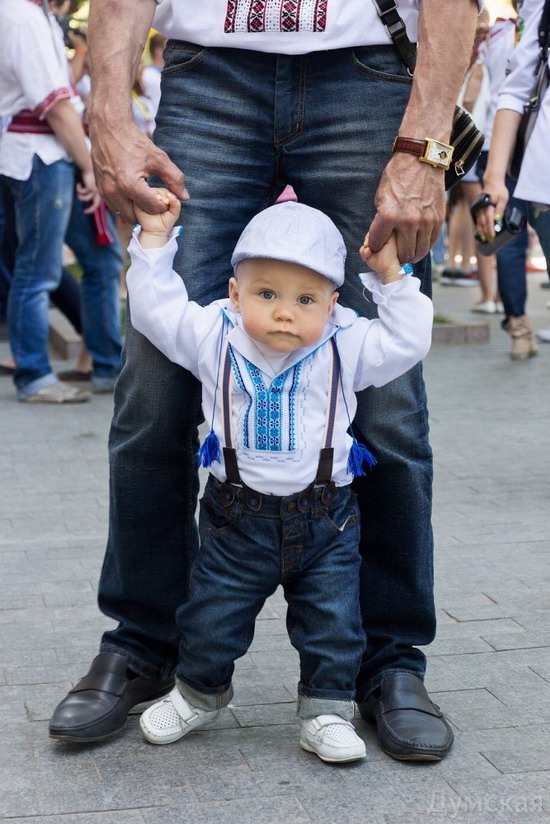 174 weeks ago
May 16, an exhibition of flowers ?European Ukraine? was opened on the Singing Field in the Pechersk Landscape Park in Kyiv. The exhibition is dedicated to the first countries of the European Union on the occasion of the 65th anniversary of the EU. Landscape designers tried to convey features and colors of each of the […]
174 weeks ago
Ukrainian part of the Hutsul Alps, a mountain group also called the Rakhiv Mountains and Marmarosi, is located in the southern part of Rakhiv district in Zakarpattia region. The Hutsul Alps is the most diverse and picturesque mountains in the Ukrainian Carpathians thanks to high altitude (over 1,900 meters), deep valleys (up to 1500 m), […]
175 weeks ago
Baydar Valley is an intermountain hollow (16 km long and 8 km wide) located in the southwestern part of the Crimean Peninsula. The valley is located at an altitude of 300-400 meters, surrounded by 600-800 meters mountains. Sometimes, when the fog descends on the valley, it becomes a truly fantastic place. Photos by: Denis Belitsky. […]
175 weeks ago
Dnepropetrovsk is a beautiful green city located in the south-eastern part of Ukraine, standing on the banks of the Dnieper River. It is the regional center of Dnepropetrovsk region, the fourth city in terms of population (978,000) after Kiev, Kharkov and Odessa. This city is one of the largest industrial, economic and transportation centers, metallurgy […]
176 weeks ago
St. Michael?s Vudubickiy Monastery was founded in the second half of the 11th century by Vsevolod, the son of Prince Yaroslav the Wise. The architectural ensemble of the present monastery was built in the 17th-18th centuries. The monastery is located in the Botanical Garden named after Grishko in Kyiv. It belongs to the Ukrainian Orthodox [...]
176 weeks ago
Poltava is a city with a population of about 296 thousand people, the administrative center of Poltava region, located in the northeastern part of Ukraine, on the Vorskla River. It is a very pleasant bright city, quite clean and well maintained. In May, an abundance of greenery and flowers makes the city even more beautiful. [...]
177 weeks ago
Kamenets Podolskiy is a city located in Khmelnitsky region. It is one of the oldest cities in Ukraine. The main attraction of Kamenets Podolskiy is its old fortress. The first constructions were built in the 11th-12th centuries, the main fortifications ? in the 16th-17th centuries. This fortress is one of the best medieval fortifications in [...]